The Biden administration's requirements for electric vehicle tax credits will reduce the number of models eligible for incentives until tens of billions of new investment in US manufacturing by automakers and suppliers kick in.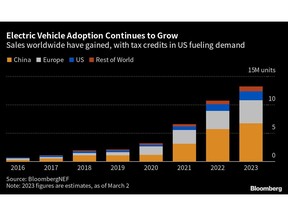 Article content
(Bloomberg) — The Biden administration's requirements for electric vehicle tax credits will reduce the number of models eligible for incentives until tens of billions of new investment in US manufacturing by automakers and suppliers kick in.
Article content
The guidance released Friday clarifying provisions of the Inflation Reduction Act — President Joe Biden's landmark climate bill — will leave few EVs eligible for up to $7,500 credits as of April 18, administration officials said. The reason: most don't meet new requirements that battery components or critical minerals are sourced from North America or US free trade partners.
Article content
The global auto industry eagerly anticipated the US Treasury Department's notice, with lobbyists pushing for months to loosen up the sourcing and content requirements. While tax credits for consumers included in the legislation, known as the IRA, will be difficult to attain, those incentives and additional perks for manufacturers have helped trigger announcements of more than $52 billion in EV and battery investment in the US.
Article content
The Treasury left still unclear how it will deem companies to be foreign entities of concern, which automakers won't be able to turn to for battery components and critical minerals in the years to come. One of the overarching goals of the IRA is to make the US less reliant on China, which dominates the EV battery supply chain.
The number of vehicles that will qualify for tax breaks will rebound as the supply chain is built out in the coming years, according to a senior Treasury official, who briefed reporters ahead of the release. Just 21 models have been eligible for credits prior to the guidance taking effect.
"This latest turn will further reduce the number of eligible EVs," John Bozzella, president of trade group Alliance for Automotive Innovation, said in a statement, adding it's still unclear how many will qualify next month. "This period may go down as the high-water mark for EV tax credit eligibility since the IRA passed last year."
Article content
Breaking From China
The Biden administration is looking to revive American industry while tilting the economy away from fossil fuels. The IRA also intersects with a separate national security objective: to free the US and its allies, as much as possible, from dependence on supply chains it sees as vulnerable to China. In addition to batteries, products of concern include semiconductors, pharmaceutical ingredients and green energy components.
The IRA is "creating American manufacturing jobs and strengthening our energy and national security," Treasury Secretary Janet Yellen said in a statement.
How aggressively Washington pursues its goals has been closely watched by the auto industry, with its complex and long-distance supply chains spanning mines from to battery-cell makers. Legacy manufacturers including Ford Motor Co. and EV market leader Tesla Inc. have plans to build new battery plants in the US that may leverage Chinese intellectual property.
Article content
Read more: Tesla Pursues US Plant With China's Battery Leader CATL
The Biden administration gave automakers some wiggle room in its interpretation of the legislation, following an intense lobbying blitz since it was passed in August. While this has eased concerns of some big automakers and trade partners, it's angered supporters of the bill, particularly Senator Joe Manchin of West Virginia, who was key to getting the IRA passed.
The IRA extends as much as $7,500 in consumer tax breaks for cars that meet criteria on how much they cost, how much their buyers earn and where the vehicles are assembled. The most detailed, and controversial, requirements are focused on the component and minerals within the battery.
Article content
Specifically, the rules split the credit in two, with $3,750 available for vehicles with at least half of their battery components from North America, and the remainder if 40% of the value of raw materials in the battery are extracted or processed domestically, or in countries with US free-trade agreements. Those requirements will ramp up over time.
'Foreign Entity of Concern'
Treasury has been vague on how to define what the law refers to as foreign entities of concern, although the administration officials said it will include Chinese companies. No tax breaks are available for vehicles containing battery components or critical minerals from foreign entities of concern starting in 2024 and 2025, respectively.
Article content
Biden's plan has a hard road ahead for competing with China on batteries, which analysts at UBS Group AG have likened to the 21st century version of oil.
Chinese battery firms led by Contemporary Amperex Technology Co. Ltd. and BYD Co. accounted for just over 50% of the market last year. By the end of the decade, nine of the 10 biggest battery makers will come from China, BloombergNEF has forecast.
"China's dominance in the battery supply chain — from critical mineral processing to EV adoption — cannot be understated," said Andrew Wang at Intercalation, a London-based battery industry research organization. "The implementation of the IRA will need to strike a delicate balance by incentivizing the decoupling of supply-chain reliance, without forcing a decade of lessons in scaling to be relearnt."
Article content
China's influence over the EV supply chain widens to around 90% in manufacturing and processing in a number of battery materials and minerals, with CATL and BYD having spent billions investing in battery mineral sourcing.
China's control of critical minerals processing — the steps required to turn mined material into usable compounds and goods —  is seen as the most difficult chokepoint within the global EV supply chain to overcome. Currently, 60% to 100% of all battery minerals are processed in China, according to a report from a Washington think tank SAFE.
The White House has recently sought to expand which countries have trade agreements with the US that allow them to supply critical minerals. It recently inked a deal with Japan and is working on one with the European Union.
Such critical mineral deals could be a boon for the handful of companies that are already producing nickel and cobalt in Europe, while also strengthening the investment case for further expansions. Countries including Finland and Japan have an outsized role as suppliers to the US, and the recent deals are crucial for both sides to ensuring that trading partners aren't locked out in the future.
—With assistance from Joe Deaux, Mark Burton, Sophie Caronello, Yvonne Yue Li and Erin Slowey.