Article content
A study released this month by the Motor Vehicle Retailers of Ontario found there are 3,000 vacancies in the automotive technician trades in the province with the labour shortage expected to persist into the next decade.
The number of vacancies has doubled since before the COVID-19 pandemic.
Article content
"The short-term impact is each vacancy represents about $500,000 in lost revenue annually," said Motor Vehicle Retailers of Ontario executive director Todd Bourgon.
Article content
"With 3,000 vacancies, that represents $1.5 billion annually. That's taxable income lost from our economy."
The study involved 20 companies and one industry association representative. Participants represented 60 individual dealerships from across Ontario.
The report looked at the job classifications of alignment and brakes technician, body and collision damage repairer, automotive electronic accessory technician and automotive service technician.
The automotive technician workforce declined 3.2 per cent from 2016 to 2021, to 54,885 employees. There was also a 12.7 per cent decline in the number of registered apprenticeships, to 17,904.
At the same time, the number of vehicles in Ontario rose 8.5 per cent, to nine million.
"It can be tough finding people," said Justin Lapointe, owner of Justin's Auto Repair in Windsor.
"The shop is extremely busy. People are holding onto their cars longer.
"People are spending more money on their cars with the shortage of new cars and the cost of used cars rising."
According to the study, a job vacancy of three months represents between $107,400 and $161,100 in lost revenue while a vacancy of 12 to 16 months costs from $429,600 to $859,200.
Article content
The study found the federal and provincial governments are losing out on a combined $10,500 to $15,000 in income tax per auto service worker making $60,000 to $80,000 annually.
Lapointe said he has five technicians including himself.
His shop is in that grey area of being busy enough to expand but that'll require investment in another hoist and finding another technician or two.
"I'm on the fence," Lapointe said.
"I recently was able to replace one licensed technician with another licensed one, but it doesn't always go that quickly. There's a lot of shifting in the industry, so my hiring might mean a vacancy was created somewhere else.
"We're paying the price now for all those years of parents and schools pushing high school kids to universities and away from the trades."
The issue has become acute enough that an increasing number of dealers and repair shops are recruiting technicians from outside the country under the federal government's Temporary Foreign Workers' program (TFW). The targeted workers are technicians who are certified and have worked on brands common to the North American market.
Article content
There were 300 service and mechanical technicians working in Ontario in 2022 under the TFS program and 99 auto body and glass technicians. That represents an 11-fold increase in both categories compared to 2016.
"I know of one dealership group that has applications in for 50 people," Bourgon said. "When we start seeing those kinds of numbers, we know we have a crisis."
However, Bourgon said that route is time consuming and very expensive because of the need to produce a Labour Market Impact Assessment for each candidate. That assessment accounts for 20 to 30 per cent of the $20,000 to $30,000 it costs per candidate to recruit someone under the TFS program.
The labour market impact assessment process requires proof there is no Canadian that can fill each job in the market.
"It takes 12 to 16 months to go through the TFW program and the cost is massive," Bourgon said. "It's fruitless to have to do this each time when we know we have a shortage.
"We need the federal government to either eliminate the labour assessments or suspend them in the short term."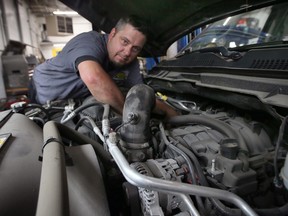 Both Lapointe and Bourgon said long-term solutions require government incentives and education.
Article content
"I'm encouraged by the direction of school boards recognizing skilled trades," Bourgon said. "The other thing that must happen is parents having a discussion with their kids about skilled trades as a career."
Bourgon added the focus the provincial government has put on encouraging interest in skilled trades is much-welcomed in solving the long-term shortage issues.
Windsor-based skilled trades program targeting women gets $2.3M

Ontario invests in high school skilled trades programs

Young people flocking to fill skilled trades vacancies
Lapointe also encourages governments to expand their support programs for scholarships, placements and tools to include the automotive technician segment.
"It can cost thousands (in tools) to get started and that's a barrier to many students," said Lapointe, who added shops will also have to be willing to take on inexperienced workers and train them to help eliminate the shortage.
"There are programs that help remove those financial barriers for electricians, millwrights and other skilled trades that I'd like to see expanded."
Twitter.com/winstarwaddell